Market Place
Products
Dr. Woods Shea Vision Soaps and Facial Cleansers
New Shea Vision Products
Liquid Soap with Organic Shea Butter
We have combined our original soap products with Organic Shea Butter to create an ultra moistu
rizing cleanser.  Shea Butter is nature's hidden secret for beautiful skin.  Once a year in the African Savannah, the Mangifolia tree gives up its fruit known as the karite or the shea nut.  After being hand picked, the shea nuts are boiled to extract their treasure, Shea Butter.
Shea Butter is an ultra moisturizer that penetrates and revitalizes your skin. Shea Butter naturally contains vitamins A, E and F, essential elements that give your skin the balance that it needs for improved elasticity and to combat dryness.
Eight, Sixteen, and Thirty-two Ounces Sizes Available.
Shea Vision Facial Cleansers
Our Anti-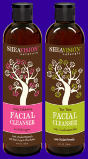 Oxidant Facial Cleansers do wonders for your complexion, leaving your skin with a healthy, radiant glow.  We guarantee it!  Both contain Gamma Tocopherol, Botanical Extracts and Organic Shea Butter to neutralize free radicals, heal blemishes and regenerate skin cells.
The Black Soap formula is a gentle, daily exfoliant for all skin types.  The Tea Tree formula will absorb excess oil, declog and shrink pores.  Amazing results will be achieved.
Sixteen Ounce Bottles Available.